Ground Projects Ltd are experts in
geotechnical engineering, on-site wastewater disposal design and on-site stormwater disposal design.

Our Geotech Engineers have a wealth of local knowledge and expertise offering you down to earth practical solutions you can depend on.
We offer you friendly, reliable and personal service for your project with effective communication throughout.
Our strong relationships with Councils and other professionals and excellent knowledge of current codes and practices will guarantee you get the best advice and service.
No matter your project, from small house additions to large subdivisions, our experience will help you in your time of need.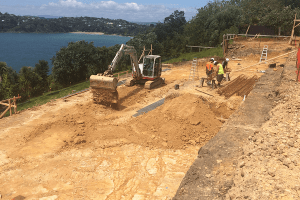 A Geotech Report or Soil Report be provided for a building development as part of the Building Consent process. It can sometimes be required by your local Council.
Get your development project on track with one of our experts – we specialize in single and multi lot subdivisions.
If you are concerned about the stability of your property, our geotechnical engineer's are ready to help.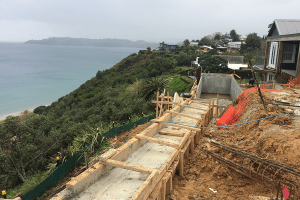 Retaining Walls are relatively rigid walls used for supporting the soil mass laterally so that the soil can be retained at different levels on the two sides.
We approach our on-site waster disposal assessment also wearing our geotechnical hat so that an inter-disciplinary approach is achieved, which is increasingly a requirement of Territorial Authorities.
Effectively managing stormwater can be key to maximising the development of your site from ensuring land stability through to protection from flooding and maximising collection for reuse in rainwater tanks.